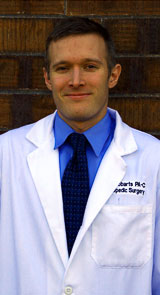 Ross Robarts, PA-C is a graduate of the Yale University Physician Assistant Program, a National Commission on Certification of Physician Assistants (NCCPA) accredited program. He is board certified as a Physician Assistant (PA-C) in Illinois.
Included in his rigorous Physician Assistant instruction, Ross completed training that covered a broad spectrum of medicine: pediatrics and geriatrics to surgery and emergency medicine. In addition, he completed elective rotations in Orthopedic Surgery, Neurosurgery and Surgical Intensive Care. Ross also holds a Masters in Exercise Physiology from the University of Illinois Urbana-Champaign. His thesis was an analysis of the gait pattern of individuals with Patellofemoral Pain (PFP), a common orthopedic condition.
Ross is currently licensed to practice medicine in the state of Illinois as well as prescribe medications under physician supervision. Ross works directly with Dr. Morrell and Dr. Odell in the operating room as well as the clinical and hospital setting.
What Is A Physician Assistant?
A physician assistant (PA) is a highly educated medical professional who works as part of a team with a doctor. As a graduate of an accredited Physician Assistant program that is nationally certified and state-licensed, a physician assistant can practice medicine with the supervision of a physician. PAs perform physical examinations, diagnose and treat illnesses, order and interpret lab tests, perform procedures, assist in surgery, provide patient education and counseling and even make rounds in hospitals.
All 50 states and the District of Columbia allow PAs to practice and prescribe medications.
What Does "PA-C" Mean?
Physician assistants have their own medical licenses with a distinct scope of practice. The acronym PA-C simply means "Physician Assistant Certified". A physician assistant becomes certified by graduating from an accredited physician assistant program and must pass the Physician Assistant National Certifying Exam (among other requirements) before receiving the medical license designation "PA-C".